Volodymyr Zelenskyy, the Ukrainian President, has cautioned about a potential nuclear disaster as a fire amid Russian shelling enforced the disconnection of the only remaining power line at Europe's largest atomic facility – Zaporizhzhya NPP – hours before the United Nations' nuclear agency IAEA were due to update the UNSC about its evaluation of the Situation at the ZNPP.
Both sides have blamed each other for endangering the safety and security of the facility by shelling close to the nuclear plant, which was captured by the Russian military in the earlier days of its large-scale incursion. On Monday, the sixth atomic reactor was knocked off the national grid amid fire caused by Moscow's shelling that interrupted electric power lines, according to Ukraine's nuclear company.
According to the IAEA statement, the sixth nuclear reactor, out of six VVER-1000 PWR atomic reactors, was still active after continued Russian strikes cut off the fifth reactor on September 3. Last year, over fifty percent of Ukraine's electricity demand was accomplished by nuclear-generated power.
The UN's IAEA said that war-torn Ukraine has said a back-up power line was disrupted in the fire, but the link would be re-established once the flames had been doused. While Moscow forces seize the Zaporizhzhya Nuclear Power Plant, Ukrainian nuclear operators remain responsible for the plant's operations.
IAEA to Issue Report Tuesday
On Tuesday, Rafael Mariano Grossi, IAEA Director General, will issue a report regarding the nuclear safety and security situation in Ukraine, including the discoveries from the IAEA Support and Assistance Mission (ISAMZ) to the atomic plant. Moreover, Mr. Grossi will provide a briefing to the UNSC about the ISAMZ to the ZNPP.
The officials in Kyiv said Putin-led military gad shelled northeastern Kharkiv, the second-largest city of Ukraine, and devastated a residential building in the center. After the recent bombardment of the city, rescuers had found the dead body of the 73-year-old woman, according to Kharkiv Mayor. At least 3 civilians had lost lives amid Russian rocket strikes, according to the regional governor.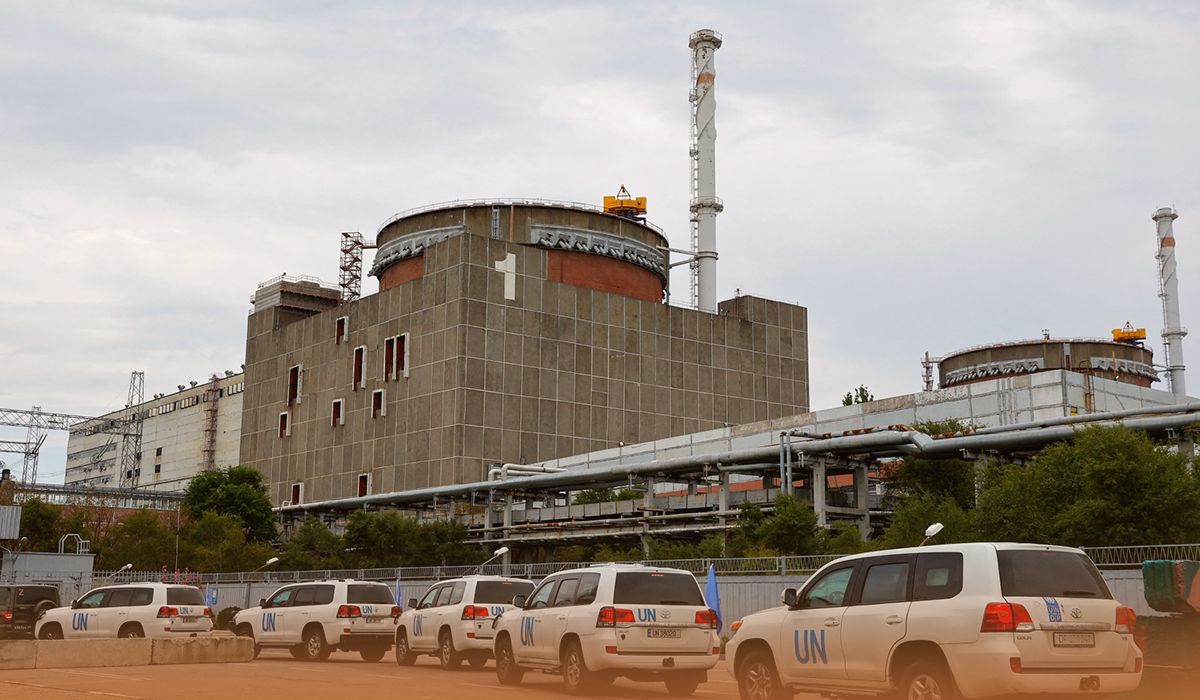 Furthermore, according to the officials in Kyiv, Moscow troops had hit an oil depot in Kryvyi Rih, the seventh most populous city in Ukraine. The rocket attack caused a massive fire at the depot. A local official said firefighters are working at the location, adding that they're working to establish information about the damage and casualties.
However, there was no considerable information about the Ukrainian military's retaliation in the country's South after it said that its troops had recaptured several cities and towns.
Read Also: Russian Strikes in Mykolaiv Damage Medical Center, Five Injured, One Killed