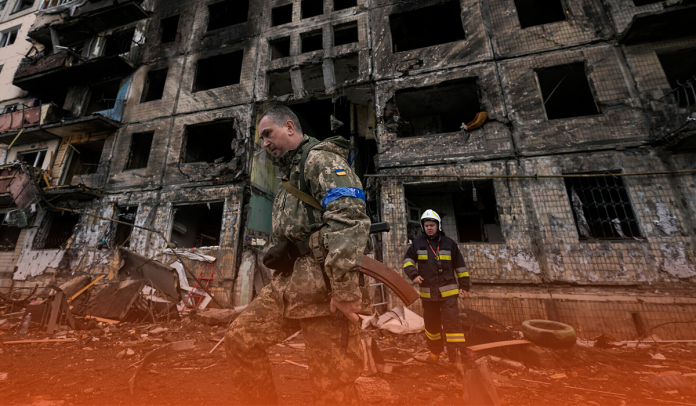 The very next day after the drone attacks in Russia, explosion sounds were raised from the Ukrainian capital, Kyiv, Zaporizhzhia, and Odesa in the south. Last day Russia blamed Ukraine for carrying out drone attacks in Kremlin, and videos circulated over the internet showing the drones exploded in Kremlin. Moscow has accused Ukraine of an attempt to assassinate President Putin, but Kyiv has denied Russian allegations. On Wednesday, Ukrainian Leader Zelenskyy said his armies only fight in its territory and have been battling to defend their cities and villages. Kyiv's leader's comments came from Finland on his surprise visit, where he met Finnish President Sauli Niinisto and with Sweden, Denmark, Iceland, and Norway leaders.
After the alleged Ukrainian drone attacks to assassinate President Putin, Kremlin threatened Kyiv to avenge whenever and wherever they consider necessary. On Wednesday, Russia triggered an attack in the Southern Kherson region of Ukraine, which reportedly killed 21 people. It is reported that the attack killed supermarket shoppers and energy company workers who were busy fixing the stuff.
In early Thursday morning, air raid sirens sounded in many Ukrainian areas, and massive explosions were heard in Kyiv and Odesa. At the same time, a drone attack hit the Russian oil refinery, which set a 400 sq meter area to a massive fire; Krasnodar Governor stated this morning that the emergency services extinguished the fire successfully. Several explosions, fires, and drone attacks hit Russia in a few days, and some commentators argue that the Kremlin has purposefully planned and conducted all those attacks.
The organization of the war study stated the attacks on Kremlin have been very uncertain, that two drones passed multiple Russian air defense layers and were shot just over the heart of the Kremlin. The institute further said that Russia has likely orchestrated the attack to bring the war to the homeland and make conditions for a broader societal mobilization. The Ukraine Air defense spokesperson Yurii Ihnat stated that he believed Kremlin itself had directed the attack on its own territory to show some escalation on the Ukrainian part.
On the other hand, some experts gave a contrasting viewpoint, saying that Russia would not risk exposing its vulnerability by staging an attack that would make them appear weak. It would also raise questions about President Putin's security and Russian air defense.
Zelenskyy on a Surprise visit to Netherlands
Local media reported that Kyiv President Volodymyr Zelenskyy has arrived in the Netherlands on an unannounced visit. Zelenskyy will unexpectedly meet with Dutch Prime Minister Mark Rutte and Members of the Amsterdam Parliament. He is expected to hold meetings at International Criminal Courts, which have issued arrest warrants for Russian President Putin.
A Dutch news agency ANP reported that President Zelenskyy came on his first visit to the Netherlands and landed at Amsterdam Schipol Airport on Wednesday. He came from Finland, where he attended a Nordic summit in Helsinki. ANP further shared a dark image of a plane and claimed the aircraft carried Kyiv's President.
In March, the International Criminal Court issued arrest warrants for President Putin, considering him responsible for the war crime of unlawfully deporting children from Kremlin-occupied regions of Ukraine to Russia. Commissioner of Children's Rights from the Kremlin Presidential Office, Maria Lvova-Belova, was also issued arrest warrants from ICC for crimes related to transporting Ukrainian children to Russia. Russia is not part of the ICC, so Moscow rejects its jurisdiction and denies aggressive actions in Ukraine.
President Zelenskyy is also expected to address a summit named "No peace without justice for Ukraine" in Hague. Ukraine is facing a tough time, and its armies are fighting to protect their lands. President Zelenskyy has been conducting unannounced visits to foreign countries to get attention and seek support from the world. Ukrainian troops are also preparing for a significant counteroffensive against Kremlin, and various ally nations are aiding Kyiv. Zelenskyy was on a surprise visit to Finland this Wednesday, where he addressed and said this year would be decisive in settling with Moscow. During a mutual Press forum with his Finnish counterpart in Finland, Zelenskyy told reporters that this year would be decisive for them, Europe, Ukraine, and Triumph.
Nordic nations also attended the summit with President Zelenskyy and pledged to support Ukraine in the war against Kremlin strongly. Norway, Denmark, and Iceland promised to support Kyiv on political, financial, humanitarian, and weapon grounds.