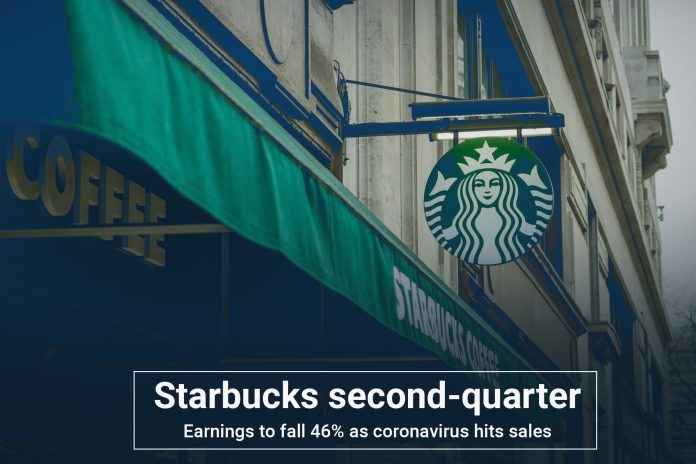 On Monday, Starbucks said that its second-quarter sales are reduced to its half due to the Coronavirus epidemic that halted its earning from two main markets.
Starbucks stock market downfall by 2%, its shares' market worth is 84 billion dollars, and till now, the company had to face 18% loss in 2020.
The company told that it hopes to attain twenty-eight cents in the second quarter. Starbucks added that this adds honoring supplier, asset impairments, inventory write-offs, store safety-related things, and preliminary calculation of specific government stimulus program benefits.
This effects other coffee chains all around the world to take an overview for fiscal 2020, mentioning the dynamic nature of the novel Coronavirus. Moreover, the company was expecting to ramp up its 2020 revenue by 6% to 8%; meanwhile, sales of the global same store was expected to rise three to four percent.
The company told that the United States stores value down by three percent throughout the quarter and reflecting the quick start of Coronavirus, which affects the business in quarter's last 3 weeks. Till 11 March, United States stores sales rose eight percent.
Later, 12 March, U.S stores sales started to fall and severely harmful when the company began to offer its services through only delivery.
Canadian and the United States workers will consistently get their pays even if the employees aren't working. Although, working baristas will get extra payment three dollars per hour.
Starbucks' condition in China
In China, during the 2nd quarter, the company's stores sales reduced fifty percent. Starbucks temporarily implemented same-store closures, decrease customer traffic, and lesser the working hours than the normal routine. Furthermore, the company's stores fell forty-two percent in China.
Grismer and Johnson are the CFO and CEO, respectively, told in a letter that their financial power as an enterprise, they are in full confidence that they would be able to maintain adequate liquidity as they are maintaining through current COVID-19 crisis.