On Thursday, Vladimir Putin, the President of Russia, said Moscow would continue paying greater attention to strengthening its nuclear forces and would commence mass shipments of Zircon hypersonic cruise missiles. In an address to mark Defender of the Fatherland Day – a Russian holiday observed on 23rd February – the Russian leader also said the Kremlin would continue to deliver its military forces in Ukraine with more advanced and sophisticated weapons.
According to media reports, the remarks by Mr. Putin follow his suspension of a bilateral nuclear weapons control treaty with America. Referring to nuclear missiles based in the sea, on land and in the air, he added that they'd greatly emphasize boosting the atomic triad, just as before.
Previously on 20th February, the United States President held a meeting with Volodymyr Zelenskyy, the President of war-ravaged Ukraine, as well as Olena Zelenska, First Lady of Ukraine, at Mariinsky Palace in Kyiv, Ukraine.
Antonio Guterres, the U.N. Secretary-General, has condemned Moscow's brutal incursion on its neighboring country as an outrage to the collective conscience of the world at a meeting of the U.N. General Assembly about a year before.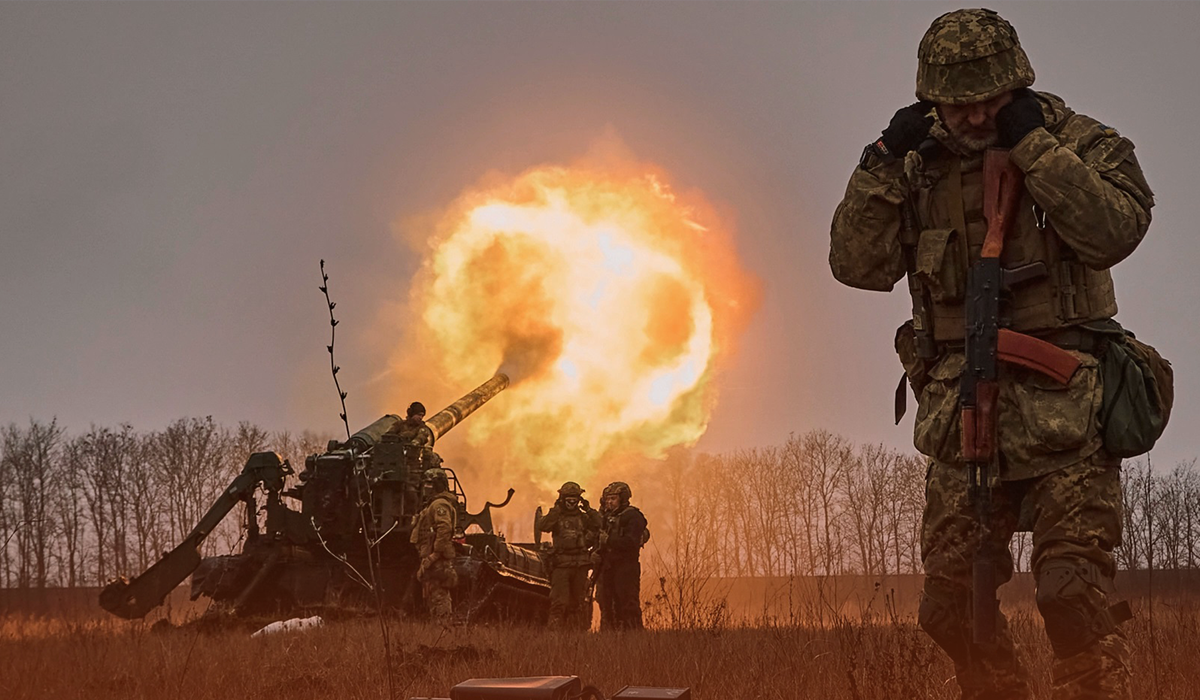 US President Announces $500M in Military Aid to Ukraine
On Thursday, Pedro Sanchez, Prime Minister of Spain, has arrived in Ukraine to meet Mr. Volodymyr Zelenskiy on the eve of the one-year anniversary of Russo-Ukrainian incursion, according to Sanchez's office.
⚡️Spanish Prime Minister arrives in Kyiv.

Spanish PM Pedro Sanchez arrived in Kyiv on Feb. 23, the eve of the one-year anniversary of the full-scale invasion. "We will stand by Ukraine and its people until peace returns to Europe," he said.

Video: Pedro Sanchez via Twitter pic.twitter.com/6fpfAQCj0Y

— The Kyiv Independent (@KyivIndependent) February 23, 2023
The General Assembly meeting was debating a strong motion supported by Kyiv and its Western supporters demanding Moscow pull out its forces unconditionally and instantly. Kyiv anticipates that by backing the move, nations will show solidarity. Moreover, Russia has blamed Europe for wanting to defeat Putin at any cost.
Joe Biden, the President of America, pledged additional security assistance for Zelenskyy forces worth USD 500M during his unannounced trip to the Ukrainian capital on Feb. 20, almost a year since Putin ordered his forces to invade the East European country. Mr. Biden also announced that further sanctions would be imposed this week against the Russian firms and businesspersons attempting to dodge the consequences of supporting Putin's war machine.