According to RIA Novosti, the Russian state news agency, Russian defense officials have accused saboteurs of a series of blasts at a military storage site in occupied Crimea that compelled the removal of over three thousand people.
Russia's Ministry of Defense said that the blasts on Tuesday trembled a weapon storage facility near Mayskoye village in northern Crimea's Dzhankoi district and interrupted electric supplies and train services from Russia into Crimea. Fortunately, no severe injuries were reported in the explosions. Moscow didn't give any signal of the kind of sabotage involved in the attack on August 16.
Additionally, according to Kommersant, a nationally distributed daily newspaper in Russia, another likely sabotage act in the Crimean Peninsula, mentioning witness as telling that large puffs of smoke could be viewed over a Russian-operated airbase near Gvardeyskoye located at the center of the Moscow-controlled peninsula. The officials in Kyiv had implied that those series of blasts in the recent week were part of a 'special operation' but which the Kremlin noted at the time was an unfortunate incident.
However, Kyiv has neither admitted nor rejected its involvement in multiple explosions in the Crimean Peninsula, which Moscow annexed in March 2014. Mykhailo Podolyak, who is serving as the adviser to the Ukrainian President, has stated the incident as demilitarization in action.
Recent Attacks Affected Kursk Nuclear Power Station
The Russian news agency TASS quoted Russia's Ministry of Defense as declaring that physical infrastructure had been demolished due to the sabotage.
Sergey Valeryevich Aksyonov, Head of the Moscow-occupied Crimea, confirmed that at least 2 people were injured in the blasts at the weapons storage site, railway traffic stopped, and around two thousand people were displaced from a nearby village. However, he didn't provide a cause for the recent explosions in Crimea, which the Russian military employs as a military supply line for its war in the post-Soviet state.
Volodymyr Zelenskyy, the President of Ukraine, hinted at Ukrainian strikes behind the front lines when he counted the people who resisted the occupiers in their rear in the list of individuals; he expressed thanks for supporting the war effort of the country. Moreover, in a video address last night, Zelenskyy cautioned the people to not go near Russian military facilities and warehouses.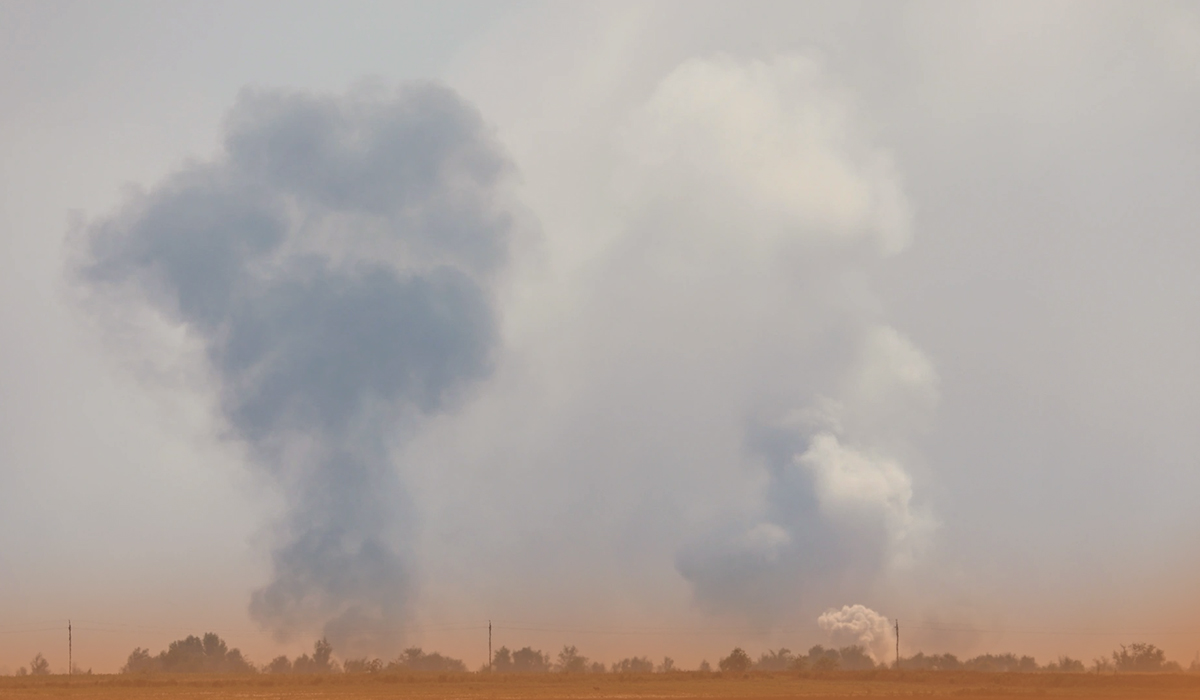 Furthermore, the Federal Security Service of the Russian Federation said that Ukrainian saboteurs had also destroyed six electricity transmission towers in August inside Russia itself. The FSB added that the strikes in the Kurchatov area, around sixty miles from Ukraine's northeastern border, had influenced the technological system functioning of the Kursk Nuclear Power Plant, an atomic power station located in western Russia.
Read Also: Russia, Ukraine Accuse Each Other of Nuclear Station Bombing