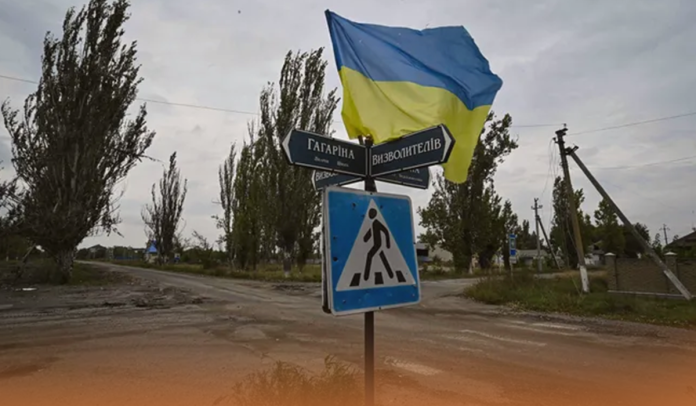 According to Kyiv officials, the Armed Forces of Ukraine have freed a key selo of Dudchany in southern Kherson province of Ukraine, hastening another Moscow military withdrawal. Kyiv's Ministry of Defense posted a video displaying the 35th Naval Brigade raising Ukraine's blue-yellow flag over Davydiv Brid village in Kherson Oblast's Beryslav Raion due to reports of several other neighboring villages being regained.
On Monday afternoon, Zelenskyy forces reached Dudchany village. But, according to a Russian military blogger, Putin's troops in the selo were threatened by the military encirclement when they decided to retreat. And soon later, according to the state TV reports, Volodymyr Vasylovych Saldo, a Moscow-appointed regional official, accepted that Dudchany had been recaptured by Kyiv personnel.
Dudchany residents cordially received the courageous soldiers of the Ukrainian Armed Forces upon their entrance, shouting 'Glory to Ukraine!', 'Glory to Heroes!' Moreover, the President of Ukraine said: [Today] the offensive proceeding of his Army and all the defenders of Ukraine continued. There're new freed towns, villages, and cities in multiple regions. The heavy battle continues in several areas of the battlefront. But the prospect of these hostilities is clear.
Volodymyr Zelenskyy continued that many more Russian invaders are retreating; the Russian personnel are suffering setbacks on the battlefield. And there's a good understanding that Moscow made a colossal mistake by declaring war against Ukrainians.
US Announced $625M Security Aid Package for Ukraine
According to Ukrainian officials, the Moscow military has already been forced to withdraw from Ukraine's Eastern and Northeastern areas. In addition, the Ukrainian forces have also pushed back invaders in the Southern positions.
Furthermore, on Tuesday, Joe Biden, the President of America, spoke with the Ukrainian President and assured him that Washington would never admit Kremlin's illegal annexation. The two leaders also communicated an additional USD 625M in security assistance, including four high-tech M-142 HIMARS rocket launchers, 200 MaxxPro MRAPs, 500 M982 Excalibur precision-guided rounds, and other arms and equipment.
Moscow still controls the strategic port city of Kherson in southern region. But its hold is looking more and more shaky on the whole area towards North of Dnipro River. In the past two days, Kyiv troops have advanced southwards along Dnipro's western bank, and Putin's military forces have now been forced to withdraw from various positions in the Kherson's Northern side too. The Ukrainian leader said his military personnel had made rapid and major advancements in country's south and freed several towns and villages in this week alone.