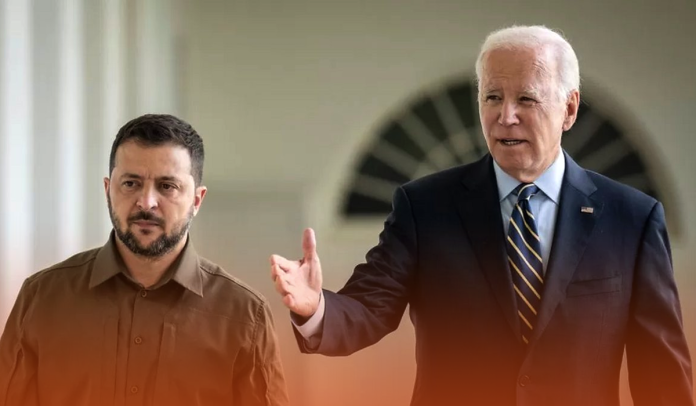 The United States President Joe Biden has vowed to support Ukraine in its war after Congress excluded Kyiv's funding in the last-minute Congressional deal to avoid a government shutdown. The step was taken to prevent the US government shutdown and did not include 6.6 billion dollars for Kyiv military aid, which was the White House's top priority. America assisted Ukraine in the war against Russia since Moscow started its invasion. Hardliner Republicans opposed President Biden's visions towards the war, and many members openly criticized the policies. However, on Sunday, Biden said Ukraine could count on United States assistance for war against the Kremlin.
President Biden said they could not cut or interrupt the Ukrainian aid under any circumstances. He talked about restoring American aid and said they would get it done, and he reassured the military assistance. Biden said the American allies only have to count on it, and it would not go away from its pledges and would stand firmly with its partners. Since Russia started its full-scale invasion, America has supplied almost  46 bn dollars of aid to Ukraine. President Biden has requested an extra $24 bn. Kyiv forces started its counteroffensive in June, for which the United States has provided a lot of heavy equipment, including long-range missiles and Abram tanks in recent months.
The temporary budget deal made on Saturday allows Congress to provide funds to the federal government for 45 days, which also cuts the Ukrainian military aid. Both parties' senior Senate leaders issued a joint statement signaling a surety for the continuation of Kyiv's military assistance by the American government in the coming weeks. This move to cut the aid comes after some days of Ukrainian President Zelenskyy's tour to Washington seeking further aid to counter Russian forces.
There Is A Clear Cleavage In American Leaders On Ukrainian Funds
President Zelenskyy faced opposition from the Republican side during his visit last week. House of Representatives is controlled by Republicans, and Democrats only have a small representation in the House. Any legislation has to be approved by both parties before it converts into a law. Matt Gaetz, Florida Congressman, expressed to the reporters that funds were already passed from Congress. Georgia Representative Marjorie Taylor-Green said there already has been specified a considerable amount of funds for Ukraine to fight against Russia. She added, "Ukraine is not the 51 state." Their remarks towards Kyiv's aid have triggered severe reactions among Democrats.
Senator Mark Warner said that he did not believe people were leaving Kyiv at this very time. However, Ukrainian officials have seen the 45-day funding agreement of the US government as an opportunity to grab longer-term support after great diplomacy. Kyiv's foreign minister said US $3 bn for humanitarian and power support will not be affected and was set to reach Ukraine, but some ongoing operations might be affected. But Ukrainian authorities also admitted there were concerns in Kyiv after the dismissal of funds.
US Leaving Ukraine In Tough Time, Critics
Ukrainian MP Oleksi Goncharenko told a news agency that the United States pledged to support Kyiv for as long as it takes, but it was disturbing to see how it excluded the funds through a stop-gap deal. He added it triggered the alarms for not only Ukraine but for Europe as well. The United States has avoided its government shutdown through a Congress deal, but it has left Ukrainian citizens concerned. President Biden said Congressmen lawmakers excluded the funds, but he vowed not to go away from supporting Ukraine, and many Senate leaders also pledged to vote for more military aid.
Ukrainian President Zelenskyy traveled to New York for the UN General Assembly and then to Washington to get the pledges for more military assistance, but his visit didn't prove fruitful. He desired to make a speech in the House Of Representatives, but he was not allowed. Then he went to Canada and made an address in the Canadian parliament and warned of a great massacre in Ukraine by Russian forces. Canadian government pledged to supply huge military assistance for Zelenskyy's armies.
Ukraine prepared for a counteroffensive for months to take the lost territories back. It had huge supplies of military equipment from various allies and built up the strength to push the Kremlin forces back. A counteroffensive to free up the occupied lands was started in June, but it didn't make exceptional progress. It is very hard on the battlefield to fight against a prominent Russian military. Ukrainian officials claimed that their forces were making slow but consistent progress in taking lost lands back. Some American authorities expressed their reservations regarding the counteroffensive's little progress after a massive fight for months.