South Korean President is sandwiched between the US pressure to arm Ukraine and his country's policy on not sending artillery to countries at war. A sensitive conversation between South Korean high-level officials leaked, revealing their discussion on whether to send weapons to Ukraine. Two of S. Korea's President's senior advisors were involved in the private talk in which one suggested supplying artillery shells to Poland instead of giving them to Washington directly. Pentagon has said the leak of documents is a national security risk and has been trying to find the source of the breach. Last year South Korea agreed to send artillery to the US but with the condition that the US would use them to refill its stockpiles and not send them to Ukraine.
On 1st March, Seoul's foreign affairs secretary Yi Mun-hui met the National Security Advisor, Kim Sung-Han, to discuss supplying weapons to Kyiv. During their dialogue, Yi Mun-hui said that the Korean government has still concerns that America might not use the artillery itself but would send it to Kyiv. They also said that if S Korea changed its policy regarding sending weapons to Ukraine, it would indicate it had been done under US pressure. They were also conscious that President Biden could directly call Korea's Yoon to discuss the arms supplies.
The United States publicly disclosed that it wants South Korea to arm Ukraine. The leaked document says that Kim suggested they could sell artillery directly to Poland. As a result, weapons would indirectly reach Ukraine as the ultimate goal of the White House was to send ammunition to Kyiv quickly. Biden's government thinks South Korea could produce advanced weapons rapidly and deliver them to Ukraine which could significantly contribute to war outcomes.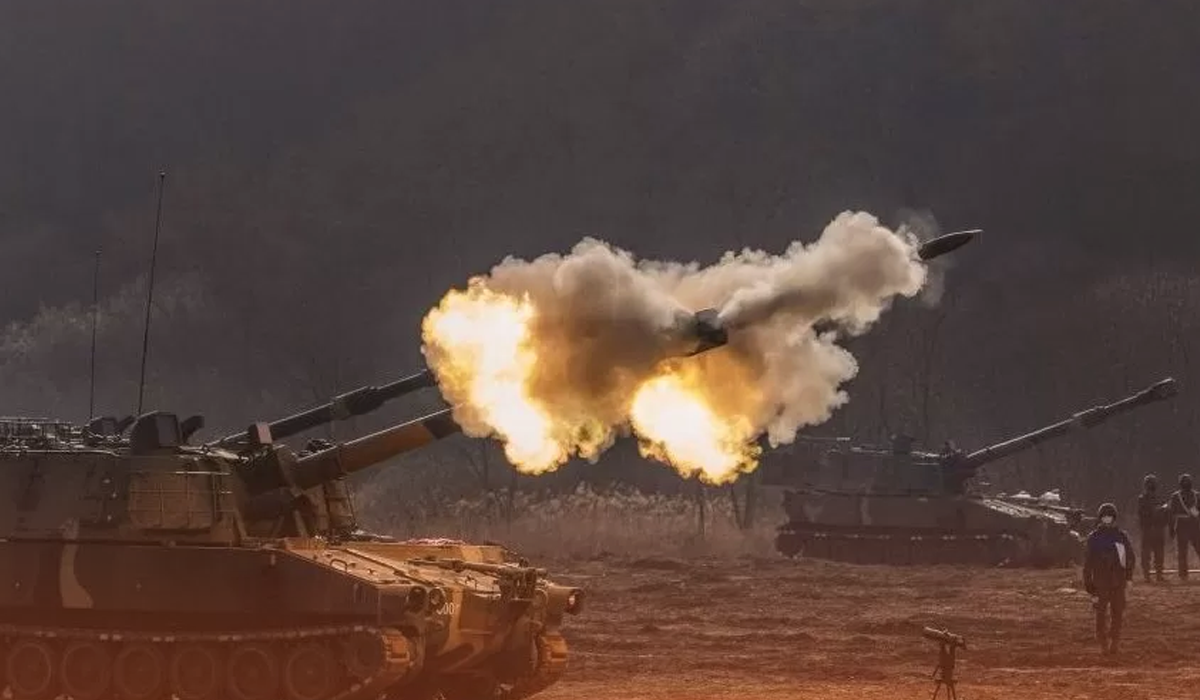 How South Korea Reacted to the Leak?
South Korea said they were investigating the paper's leak but also said accessing the National private conversation in the President's office is impossible. S. Korean government added that there was a possibility the conversation took place outside the secret underground bunker.
According to the report, South Korea understood that its supplied weapons could be used in Ukraine against Moscow, which could strain its relationship with Russia. Seoul is reluctant and wants to prevent the secret of the spread record from going public. Korea is privately worried about its relations with Putin, so it continuously quoted its policy of not sending weapons to countries at war.
An S Korean analyst from the think tank 38 North, Jenny Town, said its country always kept a delicate balance in relations with Russia and China on one side and America on the other. The leaked papers show how Korea has been trying to maintain balance, as they are willing to support Ukraine but do not want to deteriorate relations with Moscow. The leaked report is based on intelligence and can potentially upset US-S Korea links; it also shows how America spies simultaneously on its friends and enemies. Still, the timing for disclosure is not good.
Korean government officials said any act to distort their relations with allies using circulated documents would be vehemently opposed. The report has triggered security concerns inside South Korea, and opposition parties are questioning how the US was eligible to tap the secret high-level talk. They also said that the act of spying by the White House was a very severe upper-scale security breach and violation of their sovereignty.