On Wednesday, Moderna Inc, Cambridge, Massachusetts-based pharmaceutical and biotechnology company, said it would request European and U.S. health regulators to approve two lowered-dose shots of its coronavirus jab for kids below six-years of age. The Drug Company said its jab effectively works in children up to six years. Moderna also noted that if the regulators agreed, the move could smooth the path for the babies, toddlers, and preschoolers to be immunized against the fatal disease by Summer.
Interim outcomes from the trials of the pharmaceutical firm exhibited some productiveness against virus infections during the contagious Omicron wave and no new safety concerns. The efficacy of Moderna's COVID-19 jab was 37.5 percent in 2-6-year-olds, according to the Company, and 43.7 percent in kids of ages 6-months-to-2-years. In addition, blood samples from clinical trial volunteers displayed that jab provides robust protection in the above two specified age cohorts.
While announcing new COVID-19 Vaccine Phase 2/3 Study details, Moderna's CEO Stephane Bancel said: provided the need for a jab against the fatal disease caused by SAR-CoV-2 in babies and younger kids they're working with the U.S. Food and Drug Administration and regulators worldwide to submit these data as early as possible.
Moreover, Bancel said his Company would be submitting data to the federal health agency for inoculating older age brackets of children. And Moderna-made coronavirus jab is presently available for 18-year-olds and above.
Based on these data, we will submit a request for authorization of a 25 μg two-dose primary series of mRNA-1273 for children 6 months to under 6 years of age to the U.S. FDA, European Medicines Agency (EMA) and other global regulators in the coming weeks.

— Moderna (@moderna_tx) March 23, 2022
Booster Dose in Kids
Moderna's original request to immunize adolescents with two adult-sized doses – 100-mcgs – has been delayed for longer over concerns of the Food and Drug Administration around infrequent 'inflammation of the heart' side-effects. As a result, the jab tested for younger children is only 25-mcgs per shot. Moderna Therapeutics said it also intends to study a booster in kids.
The pharmaceutical company's declaration comes around 4-weeks after Pfizer Inc and its German partner BioNTech SE stated they'd postpone data submission from their coronavirus jab trials for the above-specified individuals, mentioning discouraging data against the highly infectious Omicron for two small-dose shots of their jab. Trial data from 3-doses of that jab are anticipated in the early start of April.
The United States government has premeditated in February to roll out nearly 10M shots, following the approval by US FDA and CDC's recommendation, which CDC must also sign off on eligibility for the vaccine. Furthermore, Dr. Anthony Fauci, the US President Joe Biden's chief medical adviser, said Tuesday that unfortunately, it was observed that regimen wasn't sufficient enough to offer what was felt to be apt or ideal antibody response with defense, and so it looks like this almost definitely will be a 3-dose jab for kids in that age bracket.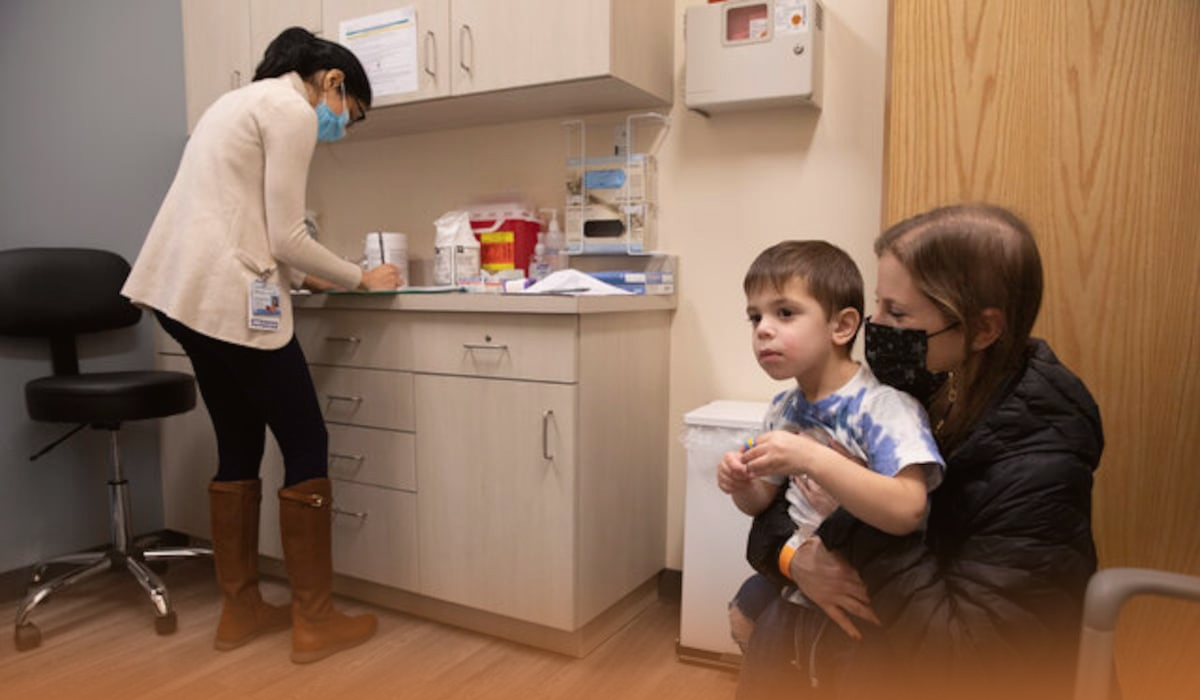 How many Kids have caught COVID-19?
Moderna said that two 100-mcg doses are effective and safe in the 12-17-years age group and is using the 50-mcg shot in elementary school-age children.
Dr. Stephen Hoge, Moderna's President, said that approximately 1.5M youngsters had used the Moderna-manufactured jab in other nations, and until now, they've observed very comforting protection from that experience.
According to the U.S. CDC data, millions of kids below 5-years of age have caught Coronavirus disease, and over four hundred have lost their lives.
Read Also: US Administration 'Out of Funding' for COVID Mitigation Steps without Additional Funding – White House