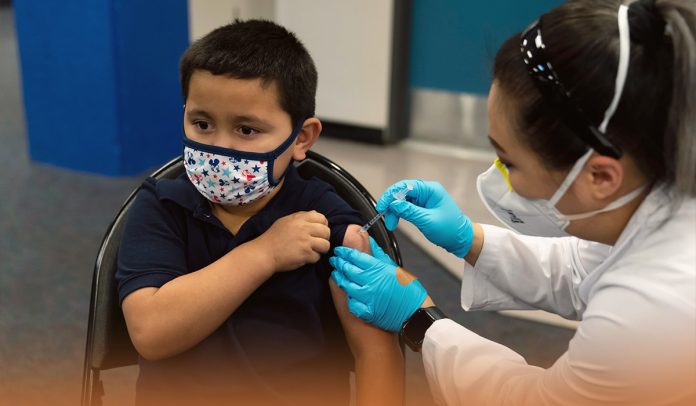 On Thursday, the U.S. federal health regulator authorized the use of COVID-19 booster dose jointly developed by Pfizer and its German Partner BioNTech SE for kids of ages 5-11-years after a panel of advisers to the CDC recommended them. The above-specified group should get a third dose at least 5-months after the initial vaccination.
Dr. Rochelle Walensky, Director of the CDC, has approved expanding Coronavirus vaccine booster eligibility to Americans ages 5-years and above, according to the health agency's announcement late Thursday.
Walensky said in a statement that today on Thursday, she endorsed Advisory Committee on Immunization Practices' vote of 11-1, with one doctor abstaining, on expanding Coronavirus booster eligibility. American kids ages 5-11 should get a third dose at least five months after their initial immunization.
The U.S. CDC Director said that inoculation with an initial series among this age bracket had trailed other age cohorts, leaving them susceptible to severe sickness. However, she added that with more than eighteen million vaccine shots administered to the specified group of Americans, they know that COVID-19 jabs are safe and effective. Moreover, CDC Director says they must continue to increase the number of protected kids.
And with rising infections, it's also vital that all eligible individuals have the defense they need, which is why, the health regulator has also strengthened another dose – overall fourth or 2nd booster.
.@CDCgov is also strengthening its recommendation that those 12 & older who are immunocompromised and those 50 & older should receive a second booster dose at least 4 months after their first booster dose.

If you're eligible, I strongly encourage you to get a second booster.

— Rochelle Walensky, MD, MPH (@CDCDirector) May 19, 2022
COVID-19 Infection in Kids
Since the deadly COVID pandemic started, over 4.8M 5-11-year-olds have contracted the fatal disease, around fifteen thousand have been admitted to hospital, and tragically, more than one hundred and eighty have lost their lives. As new COVID-19 infections rise countrywide, an additional dose will effectively restore and improve immune response against the fatal disease caused by SARS-CoV-2.
Previously, the U.S. FDA approved the Pfizer-BioNTech booster dose for Americans 5-11-year on May 17 as Coronavirus infections are rising again in the country. Additionally, the American administration has been urging the eligible US population to roll up their sleeves for booster doses, but less than half of the fully immunized have received additional doses.
During the meeting, the New York-headquartered pharmaceutical giant said that data found an additional shot of its jab provides robust protection against the highly contagious variant of SARS-CoV-2 – Omicron – in healthy kids of ages five to eleven years.
Read Also: President Biden Requested World to Boost Efforts to Fight COVID-19