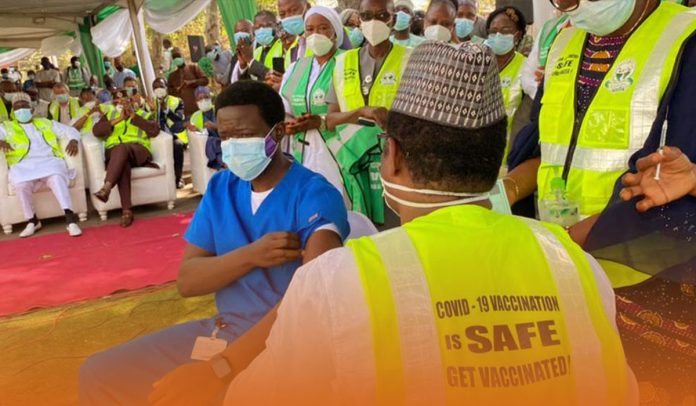 On Tuesday, a White House official said America is delivering over 3.5M shots of Pfizer-BioNTech vaccine to Africa's most populous country Nigeria. The official said the latest shipping commenced on 12th October and the 3577860 doses follow the 28th July donation of 4M Moderna vaccine doses. The grant was processed through the global jab-sharing initiative, COVAX.
Previously in last July, the US administration delivered about 10M COVID-19 vaccines doses to two of the most populous African nations, South Africa and Nigeria. Of those, 5.66M Pfizer-made doses went to South Africa, and 4M shots of Moderna-made vaccine shipped to Nigeria.
US is sending the 2nd round of vaccines to #Nigeria, 3,577,860 doses of @pfizer through #COVAX, shipping today, a @WhiteHouse official tells @VOANews.
This is in addition to the first round of donation, 4M doses of @moderna_tx on July 28.

— Patsy Widakuswara (@pwidakuswara) October 12, 2021
According to the White House official, they're sharing these COVID doses not to secure favors or extract concessions. Moreover, their jabs don't come conditionally. Instead, they're donating vaccines only to save lives.
Unfortunately, according to Johns Hopkins University, the Federal Republic of Nigeria has reported nearly 2761 fatalities from COVID-19 and about 208404 confirmed virus cases. However, medical authorities in Africa and overseas have expressed worries that the continent's right condition has been undetected and unreported.
America Pledged 1.1 Bn COVID-19 Vaccine Shots
South Africa remains at the epicenter on the continent, with nearly 88317 fatalities tallied by WHO and over 2.9M COVID-19 infections. According to the World Bank data, with over 206.1M citizens, Nigeria is a lower-middle-income nation. The Federal Ministry of Health (Nigeria) said that the Federal Republic has also accepted vaccine donations from Russian Federation. Nigeria also received the diagnostic and treatment equipment and COVID-19 testing kits in donations from South Korea and China.
Furthermore, according to the WHO, just more than 7273026 vaccines doses have been administered as of October. Unfortunately, that is far behind from the goal shared by the Federal Republic officials to inoculate forty percent of its citizens, nearly eighty percent people, by the end of this year.
According to the White House official, Joe Biden also proclaimed plans in June to purchase and donate around 500M doses of Pfizer vaccine to ninety-two low-and-middle-income nations (LIMCs) and the African Union. Overall, America has promised to donate approximately 1.1 billion shots. However, aid organizations express that isn't sufficient, coming from the wealthiest nation of the world.
Read Also: WHO Launched Strategy to Inoculate Around 70% World Population By mid-2022