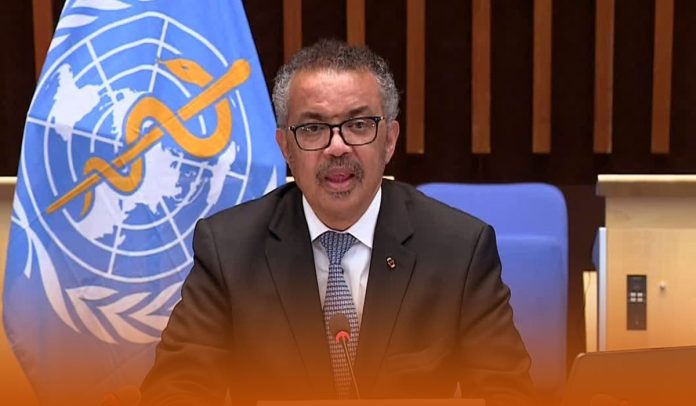 Proclaiming that jab inequality is the 'best ally' of COVID-19 pandemic, the World Health Organization head and the United Nations Secretary-General launched on Thursday the ambitious "Strategy to Achieve Global COVID-19 Vaccination by mid-2022," to have 40 percent of the world population inoculated against deadly COVID by the end of 2021 and almost 70 percent by mid-2022.
The immediate goal of the global vaccination strategy is to minimize fatalities and overall severe disease burden; curtail the well-being system influence; decrease the risk of new transformations of the lethal virus and hence leading to resume the socio-economic activities completely.
According to the WHO, an earlier aim to immunize ten percent of every country by the end of September 2021 fell short, with over fifty-five nations, mostly in the Middle East and Africa, failed to meet the set target. The organization stated that 0.2 billion COVID-19 vaccine doses are required to get those nations to meet the 10 percent target. Moreover, Guterres urged those nations to join and make it a victory.
Speaking from New York, Antonio Guterres, the Secretary-General of the U.N., said that a decrease of new infections in any country wouldn't be continued over time without a harmonized and honest approach. Therefore, for everyone's sake, all nations must immediately bring the entire world to a high level of immunization coverage.
The @WHO Global #COVID19 Vaccination Strategy launched today, aims to get vaccines into the arms of 40% of people in all countries by the end of 2021 and 70% by the middle of 2022.

This is a coordinated & credible path out of the pandemic for everyone, everywhere. pic.twitter.com/0V0EY6y22K

— António Guterres (@antonioguterres) October 7, 2021
Not a Supply-Chain Issue, It's an Allocation Issue – WHO Director
The United Nations chief told a press briefing that with jab manufacturing now at about 1.5 Bn doses monthly, they could meet the forty percent inoculation target in all nations by 2021's end. And if they could mobilize around eight billion dollars to make sure that "distribution is equitable."
I'm very grateful to @UN Secretary-General @antonioguterres for his continuous leadership and support for #VaccinEquity to accelerate the end of the pandemic.

— Tedros Adhanom Ghebreyesus (@DrTedros) October 7, 2021
Furthermore, Dr. Tedros Adhanom Ghebreyesus, the Director-General of the World Health Organization, said that 6.5 Bn shots have already been administered globally. Additional 5 Bn are required to reach the 70 percent target, which Mr. Tedros said present jab producing rates could handle effectively. He also said that it isn't a supply-chain issue; instead, it's a distribution issue, adding that it's crucial that the older. Healthcare employees and other vulnerable groups are ranked top.
The WHO head said they could only meet their targets if nations and businesses put contracts for COVAX and AVAT (African Vaccine Acquisition Trust) first for supplies and donated shots. After that, they've got the tools to control the pandemic if they use them appropriately and share them impartially.
Dr. Tedros claimed that achieving the 40 percent benchmark would, in essence, terminate the acute phase of the deadly pandemic. But if the goals can't be reached, the risk continues of new mutants emerging that might be jab resistant.
Moreover, the Global Vaccine Strategy urges vaccine-manufacturing nations to share licensing and technology to assist other countries in increasing COVID doses production. Finally, it calls on jab producers to prioritize fulfilling contracts with AVAT and COVAX, so shots to the impoverished nations.
"Two-Track Pandemic"
According to the latest WHO data, over 235.6M confirmed coronavirus infections, and about 5M fatalities have been reported worldwide.
The latest plan requires 11 Bn doses to be made available to take over what the United Nations has labeled as a 'two-track pandemic.'
Speaking from U.N. headquarters in Geneva, the WHO chief said that high and upper-middle-income nations had consumed 75 percent of all jabs manufactured so far. In the meantime, less than half of the 1% of shots have gone to low-income nations. Moreover, less than five percent of Africans are fully inoculated.
Read Also: Wealthy Nations Should Share COVID Vaccines Instead of Using as a Booster – WHO