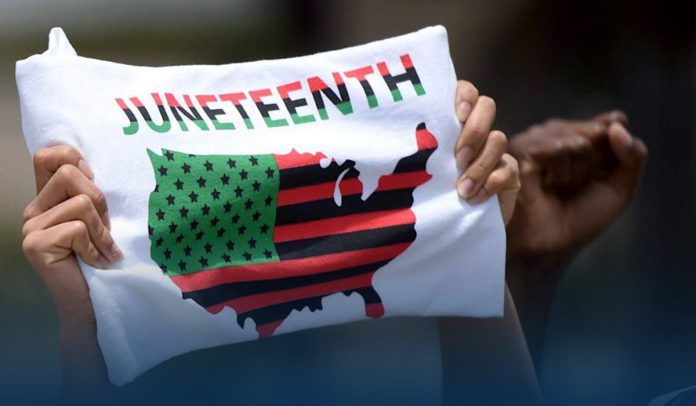 On Wednesday, the House of Representatives overwhelmingly approved a bill to make Juneteenth a federal holiday, and Democrats hope American President will sign the move into law by Saturday. The bill designates the national holiday as 'Juneteenth National Independence Day,' passed 415/14.
The bill marks the end of slavery in Texas is already celebrated as a ceremonial or state holiday in 47 US states and the Columbia District. When the measure gets the President's signature, 19th June will become the nation's eleventh federal holiday.
The federal designation will also put pressure on businesses and local administrations to align. It is the first new national holiday since Martin Luther King Jr Day was established in 1983.
Juneteenth marks the day on 19th June 1865, when enslaved Black Americans in Texas State learned they had been freed.
Sheila Jackson Lee (D-Texas), the House bill's sponsor, stated it 'has been a long journey,' but they're there.
3/3 in order to have a historic celebration of Juneteenth this June 19, 2021. It has been a long journey! Juneteenth equals freedom and freedom is what America is about!

— Sheila Jackson Lee (@JacksonLeeTX18) June 16, 2021
Mo Brooks (R-Ala), Rep. Andy Biggs (R-Ariz.), Andrew Clyde (R-Ga.), Paul Gosar (R-Ariz.), Scott DesJarlais (R-Tenn.), Thomas Massie (R-Ky.), Doug LaMalfa (R-Calif.), Ralph Norman (R-S.C.), Tom McClintock (R-Calif.), Mike Rogers (R-Ala.), Matt Rosendale (R-Mont.), Tom Tiffany (R-Wisc.), Ronny Jackson (R-Texas), and Chip Roy (R-Texas) voted NO.
'156-years later, & Juneteenth is becoming the Federal Holiday'
The measure was quickly passed by unanimous consent a day earlier after Senator Ron Johnson announced he was lifting his hold. However, Mr. Johnson blocked it last year.
House GOPs resounded that concern, including Representative James Comer, who voted for the bill but asserted in a floor speech that, unlike Democrats, GOPs have a concern about the cost of their passed lawmaking.
Democrat Carolyn Maloney from New York said that their federal holidays are purposely less in number and recognize the most crucial milestones. Moreover, Maloney said that she couldn't think of a more important milestone to commemorate than the slavery end in America.
On Wednesday, Chuck Schumer, Senate Majority leader, said on Twitter that Juneteenth "will be the only national holiday recognizing the horrors of slavery."
I'm proud the bill I put on the floor from @SenMarkey, @SenTinaSmith, and @SenBooker to make #Juneteenth a federal holiday passed the Senate.

It will be the only federal holiday recognizing the horrors of slavery and the transformative legacy of emancipation. pic.twitter.com/6ZTLaMWlm9

— Chuck Schumer (@SenSchumer) June 16, 2021
Furthermore, Kerry Washington (actress and producer) tweeted, 156-years later, and Juneteenth is becoming the Federal Holiday.
Texas GOP Senator John Cornyn, Texas Democratic Rep. Sheila Jackson Lee, and Democratic Senator Ed. Markey are among those US Congress members who led the movement to make Juneteenth the twelfth federal holiday.