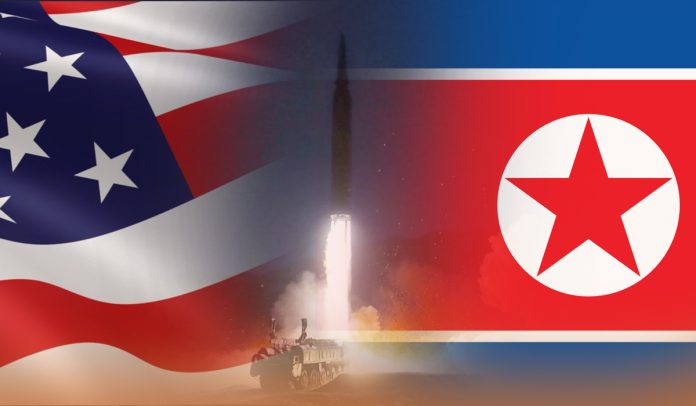 On Friday, North Korea, officially the Democratic People's Republic of Korea, fired two short-range ballistic missiles in its third weapons launch in January, according to the officials in South Korea (Republic of Korea) said, in an apparent reprisal for new sanctions announced by the President Joe Biden administration for its ongoing test-firing. According to South Korea's Joint Chiefs of Staff, the missiles came from an inland area in the western North Pyongan province of DPRK.
North Korea fires railway-borne missiles as US tension rises Pyongyang says drill aimed at 'checking and judging' proficiency of the weapons that hit a 'set target' in the East Sea.

— Deji Sadiq (@deji_of_lagos) January 15, 2022
KCNA, the DPRK's official news agency, said the drill was aimed at 'checking and judging the proficiency in the action procedures of the ballistic missile,' adding the two guided missiles strike a set target in the East Sea. Moreover, the Japanese Prime Minister's Office and the Defense Ministry detected the launch, while the Japan Coast Guard urged vessels to take heed to falling objects.
Hours earlier, North Korea (DPRK) issued a statement rebuking the Biden government for imposing new sanctions over its missile tests and cautioned of a more robust and more explicit move if the U.S. maintains its aggressive stance.
"nuclear war deterrent"
Furthermore, the ROK's Yonhap News Agency mentioned its military as saying the newest projectiles flew around 267 miles (430km) at an altitude of 22 miles (36km) and a top speed of Mach 6 (7350 kph), which is almost six times the speed of sound.
The American sanctions targeted five North Korean individuals over their roles in gaining equipment and technology for the N. Korea's missile programs in its reaction to the North's missile test the current week. It also said it would seek new United Nations' sanctions. The earlier test-fire of a hypersonic missile on Tuesday was overseen by Kim Jong Un, North Korean Supreme Leader, who said it would significantly increase the 'nuclear war deterrent' of his country.
Also, North Korea has been ramping up tests of the latest, potentially nuclear-capable missiles designed to overwhelm missile defenses in that region. Some experts say Kim is going back to a tried-and-true technique of pressing the world with missile launches and outrageous threats before offering talks meant to extract concessions.
Previously, North Korea fired what it purports to be a hypersonic missile on 5th January and Tuesday, in an apparently continued expedition for the development of new advanced weaponry due to a deadlock in nuclear negotiations with the U.S.