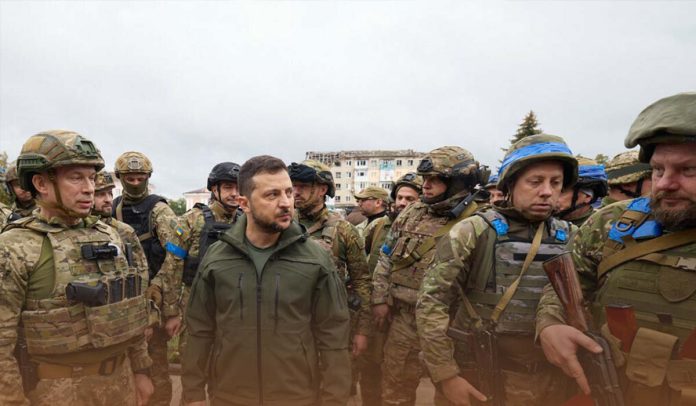 Volodymyr Zelenskyy, the President of Ukraine, has visited his military personnel in Donetsk, an industrial city in Ukraine's eastern part located on the Kalmius River, which Moscow claims as its part after Kremlin's sham referenda. The region, especially around Bakhmut City, is now the main focus of fierce battle after the Ukrainian defense forces regained southern Kherson in November.
Late on Tuesday, more Russian attacks were reported in the central-eastern Ukrainian region of Dnipropetrovsk, the most important industrial region of the state. According to the Governor of Dnipropetrovsk Oblast, Valentyn Reznichenko, at least one resident was wounded after an air strike in Kryvyi Rih City – the seventh most populous Ukrainian city with an estimated 603,904 (2022) residents.
🇺🇦 President Volodymyr #Zelensky visited troops near the Donbas front line on Tuesday and expressed thanks to everyone involved in the war effort to mark #Ukraine's Armed Forces Day.

That comes as strategic sites in Russia were hit by drone strikes, as @NRushworth reports ⤵️ pic.twitter.com/BgZvfxB4Bo

— FRANCE 24 English (@France24_en) December 7, 2022
Situated at the convergence of the Inhulets and Saksahan rivers, Kryvyi Rih gained the status of a City after Great October Socialist Revolution in 1919.
Zelenskyy's visit comes after Monday's heavy Moscow missile attacks, which destroyed several homes in the country's Southeast and caused power failures; however, Kyiv officials said that its Air Defence capabilities had limited the damage. Russia has been aiming at the country's power grid in the latest big waves of strikes since October 2022, and Ukrenergo – the sole operator of the high-voltage transmission lines in Ukraine – said more critical infrastructure had been struck on Dec. 5.
Significant Failure of Force Protection
Denys Shmyhal, Prime Minister of Ukraine, said the Ukrainian energy facilities had been struck in the Capital region and Vinnytsia in Ukraine's west-central part and Southern Odessa; however, the country's energy system was still operating.
Furthermore, Ukrainians are now experiencing snowfall and temperatures below 0OC in several areas, and millions are suffering outages and water supply, raising apprehensions residents may die of hypothermia amid prolonged exposure to low temperatures.
On the second day of missile strikes on Tuesday, several unmanned aerial vehicles hit Russian territory; however, Kyiv didn't confirm carrying out UAV attacks inside Russia. But the UK's Ministry of Defense said Moscow was anticipated to consider the strikes on Russian bases over 300 miles from the Ukrainian border as some of the most strategically substantial failures of force protection since Putin declared brutal incursion of Ukraine.
Read Also: US Contemplates Expansion in Ukrainian Military Training