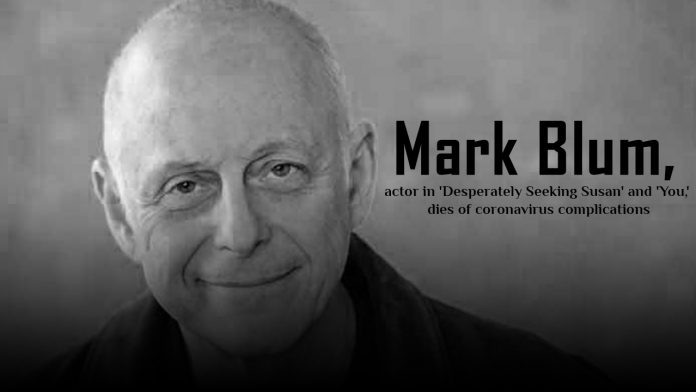 A veteran actor, Mark Blum, who got fame due to his outstanding films known as "Crocodile Dundee" and "Desperately Seeking Susan," has died amid Coronavirus outbreak, said by Screen Actors Guild in a statement.
Blum was 69 years old and got dominance by the film "Desperately Seeking Susan" that was made in 1985 in which he worked with Rosanna Arquette and Madonna. Moreover, he was currently playing supporting roles, and he was appeared on the Netflix series "You" on HBO "Succession" series and also performed in Amazon's comedy-drama "Mozart in the Jungle."
Mark Blum was one of the superior actors in the theater community of New York, usually appeared on Broadway theater. Furthermore, he was a frequent player of "Playwrights Horizons" that's an off-Broadway theater in New York. The firm has shown condolence on its Twitter official account.
With love and heavy hearts, Playwrights Horizons pays tribute to Mark Blum, a dear longtime friend and a consummate artist who passed this week. Thank you, Mark, for all you brought to our theater, and to theaters and audiences across the world. We will miss you. pic.twitter.com/NMVZFB5hPb

— Playwrights Horizons (@phnyc) March 26, 2020
The company tweeted that Playwrights Horizons, with affection and heavy hearts, offers tribute to Mark Blum, who was a longtime dear friend and a great artist who died this week. Theater thanked Blum by saying that your contributions mean a lot to their theater, other theaters, and audience all around the world. The company also added that they would miss him.
Executive vice president and president of New York SAGAFTRA, Rebecca Damon, said that he was a tireless advocate for his fellow artists. He added he always admired his clear perception of difficult and complex situations.
A former member of SAGAFTRA, Damon told about Blum that he spoke the truth and has performed a remarkable service in our community.
Cynthia Nixon, former New York gubernatorial candidate and an actor said Blum's performances are subtle, unfailingly deep, and hilarious.