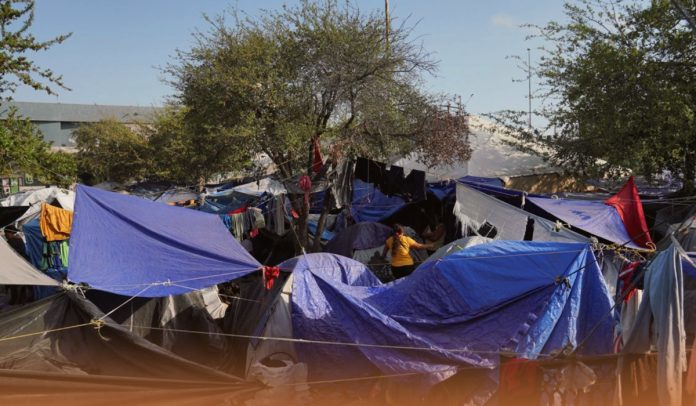 The Supreme Court of the United States is considering President Biden's proposal to annul a hardline policy of immigration started under the former President Donald Trump that compelled thousands of asylum seekers to 'Remain in Mexico' to wait for American hearings on their refuge claims.
According to the media reports, on Tuesday, the Supreme Court justices heard oral arguments in a President Biden government appeals of a lower US court ruling that reestablished Migrant Protection Protocols (MPP) after the Grand Old Party-led Missouri and Texas states sued to maintain the policy. President Joe Biden suspended the 'Remain in Mexico' policy shortly after taking the Office on January 20, 2021.
The Trump administration proclaimed the creation of a new program called the 'Migrant Protection Protocols' – often called as the 'Remain in Mexico' policy. The program went into effect in Jan. 2019 and was used to send approximately seventy thousand migrants back to Mexico before it was suspended, and then terminated, after President Biden took office last year.
The Progressive members of the US incumbent party and immigration advocates have condemned 'Migrant Protection Protocols,' saying it compelled asylum seekers to stay in Mexico, where they met high violent crime rates and other human rights abuses, including robbery, kidnappings. Moreover, the immigration program made it challenging to access American attorneys.
'Laws are crystal clear'
Several immigrant rights activists held a demonstration on April 26 outside the SC in D.C., setting up flowers with a 'safe not stranded' message. During the demonstration, Tamara Goodlette, Director of Litigation – RAICES, said that the Joe Biden vs. Texas case is a critical juncture for US democracy, as the highest court in the federal judiciary of the U.S. will determine whether Missouri and Texas could challenge their laws and the desire of millions of voters.
Art installation c/o @paolamendoza and Vivid Experience for the #SafeNotStranded rally.

People are gathered here because America is at its best when we welcome those in need of protection, regardless of where they're born or the color of their skin. #RMXMustGo pic.twitter.com/rhu8e3E9be

— FWD.us (@FWDus) April 26, 2022
Goodlette added 'our laws are crystal clear:' everyone who reaches the American border has the right to request refuge, and an individual who worries persecution couldn't be sent to a spot where they're in danger.
According to the reporters, the court hearing came shortly before America is anticipated to put an end to another fundamental Trump-time border restrictions known as Title 42, which President Biden's government aims to end on 23rd May, but that choice is being lawfully challenged by twenty-two US states.
Read Also: President Biden Asks SC to Review Trump-era 'Remain in Mexico' Ruling