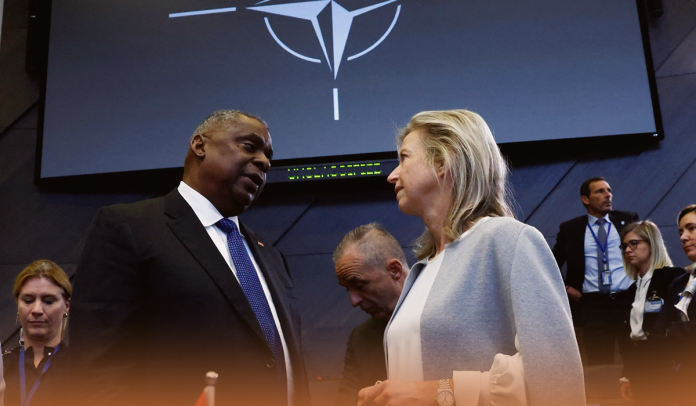 The United States of America has reiterated its commitment to protect and defend every inch of NATO land and territory as a closed-door meeting by the military alliance's Nuclear Planning Group (NPG) got underway in Belgium. However, as NATO members pushed ahead on October 13 with plans to hold nuclear drills, Moscow took on an aggressively defensive attitude and warned should Kyiv ever become a member of the 30-member alliance.
Alexander Venediktov, Deputy Secretary of the Russian Security Council, said in an interview that the accession of the East European Ukraine to the Western military alliance could lead to the Third World War and the players in the North Atlantic Treaty Organization are well aware of it. Therefore, the application from Kyiv for a fast-track OTAN membership is somewhat of a propaganda move.
Furthermore, the Ukrainian leaders are pleading that America and its European allies for advanced air defense systems to continue their stunning and highly effective counter-attack against Moscow troops and vigorously fight off Russia's intensified shelling.
The US Secretary of Defense and Chairman of the Joint Chiefs of Staff discussed plans to deliver anti-aircraft weapons to Kyiv forces and boost military education and training for the Armed Forces of Ukraine.
The US and its Allies Committed More Military Aid to Ukraine
The United States has already sent twenty M142 HIMARS rocket launchers and has pledged eighteen more. In addition, according to media reports, Washington has committed around 54bn dollars in security, humanitarian, financial, and defense assistance for Ukrainians.
What the US has committed so far includes 700 AeroVironment Switchblade Tactical UAVs, 121 Phoenix Ghost Tactical UAVs, 20 Mil Mi-17 helicopters, 105-mm Howitzer weapons, 200 Armed Personal Carriers, 100+ Humvees, 22 counter-battery radars and many more weapons and military equipment. In addition, Berlin is now going to send its first IRIS-T short to medium-range infrared homing air-to-air missile system, which has an operational range of around 25 miles. Germany has pledged four.
Jens Stoltenberg, Secretary-General of the North Atlantic Alliance, said Thursday that the thirty-member Western military alliance would keep a close watch on Moscow's forthcoming nuclear drills but not be cowed into discontinuing assistance for Kyiv by Russia's hidden nuclear threats.
Read Also: Western Leaders Hailed 'United Front' Against Putin's War in Ukraine