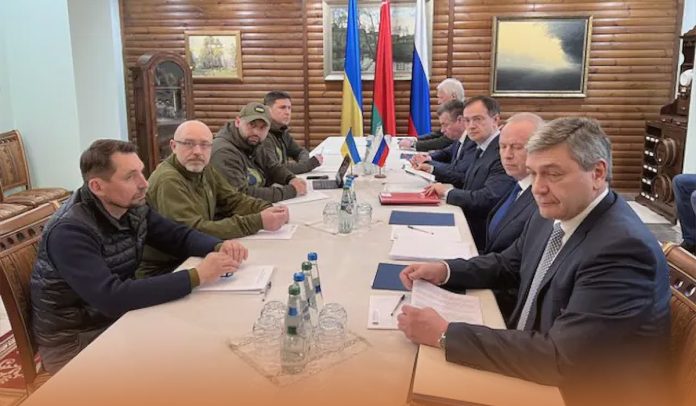 According to Ukrainian administration officials, the Russian military fired artillery on Kyiv's suburban areas on March 14 as delegations from both sides held the 4th round of discussions without indications of a major breakthrough. The meeting, which is occurring virtually rather than in the neighboring country of Belarus as in the past, stopped for the day, but is set to restart on March 15.
After the talks, Mykhailo Podolyak, the Ukrainian adviser to Mr. Zelenskyy, said on Twitter that talks are being held yet it's hard, adding that both sides are vigorously stating their specified positions in the fresh round of discussions between the leaders of Ukraine and Russia.
Moreover, Podolyak said he'd raised the expectation of advancement on Sunday by saying that Moscow had been listening cautiously to their proposals and was starting to converse constructively. According to Ukrainian authorities, at least two people lost their lives when a shell struck a nine-story residential structure in Kyiv's urban Obolonskyi district. Also, a Russian air attack near a Ukrainian checkpoint caused massive damage to a downtown Kyiv area, killing one person.
Two people have died in a 9-floor residential building in Kyiv, Obolonskyi district, 3 – hospitalized and 9 were treated on the spot – reported by the State Emergency Service of Ukraine.
The building was partially destroyed by a Russian shell. The fire was extinguished. pic.twitter.com/4fmJzNX0jX

— Громадське радіо (@HromadskeRadio) March 14, 2022
The brutality comes a day after Russian forces launched a fatal cruise missile attack on a military training facility in Western Ukraine just 15 miles from the Polish border – a NATO member. Nearly 35 innocent people were killed and 134 injured in an assault on the training facility.
Widening Assaults Across Western Ukraine
A senior American defense official said that almost all of Russian military developments remain caught up inside Ukraine – a former Soviet Republic. According to the latest American assessment, that includes Russian advance troops outside of the Ukrainian capital, which are nearly 9 miles from the Kyiv Center, and a Russian military convoy around Kyiv.
Furthermore, the Ukrainian authorities in Mariupol stated that a convoy of civilian cars could flee the embattled city through a safe corridor after numerous efforts to vacate civilians collapsed. According to authorities, around 2500 non-military persons have lost their lives in the southern city of Mariupol since Russian Army started assaults on the city. However, the number couldn't be independently established.
According to CNN reports, Benjamin Hall, Fox News correspondent deployed in recent weeks for Ukraine war coverage, has been admitted to hospital after being wounded while reporting near the capital city on Monday. And according to Kyiv's police chief Andriy Nebytov, Brent Renaud, 50, a journalist and filmmaker, had been targeted by Russian soldiers in the town of Irpin.
The United States declined Zelenskyy's plea for a no-flight zone over Ukraine and refused a proposal by the Polish government to deliver their Russian-made MiG-29 fighter jets to US' Ramstein Air Base in Germany to be delivered to Ukraine. Instead, the United States President approved up to 200M dollars' worth of US support in the form of 'military education and training' for Ukrainian forces, following a former security aid suite worth 350M dollars.