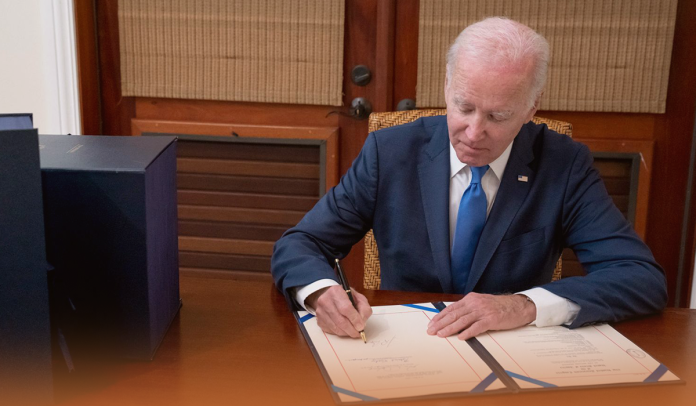 On Thursday, the White House stated that U.S. President Joseph R. Biden signed a USD 1.7T spending package to fund the federal departments and agencies for the Fiscal Year 2023. He signed the spending bill, which Congress approved last week while vacationing in St. Croix, one of the three U.S. Virgin Islands (St. Croix, St. John, and St. Thomas), in the eastern Caribbean Sea.
The United States President and his wife, Jill Biden, traveled to St. Croix to relax between the holidays. The US otolaryngologist and business executive Howard David Krein and his spouse Ashley Biden, daughter of the US President and Jill Biden, as well as children of the President's late son Beau Biden, Hunter and Natalie, also joined the Bidens.
The spending legislation encompasses emergency assistance to war-torn Ukraine, record military funding, additional funding for American students with disabilities, more money to protect the rights of workers and more jobs and training programs, as well as more affordable housing for veterans and those escaping domestic abuse.
The 4,155-page government spending bill passed the U.S. Senate, 68/29, on Dec. 22 with eighteen Senate GOPs voting in favor of the legislation. The U.S. House approved the massive bill on a party-line vote of 225/201. And now on Dec. 29, the U.S. President puts his signature on a massive USD 1.66 tn containing domestic priorities and officially preventing a temporary shutdown.
Today, I signed the bipartisan omnibus bill, ending a year of historic progress.

It'll invest in medical research, safety, veteran health care, disaster recovery, VAWA funding – and gets crucial assistance to Ukraine.

Looking forward to more in 2023. pic.twitter.com/KTI1R9qMij

— President Biden (@POTUS) December 29, 2022
The huge spending package allocates nearly USD 773 bn for domestic discretionary programs and around 858 bn dollars in defense funding to provide military personnel with a hefty pay rise, strengthen the defense of Ukraine by sending them ordnance and rescind the American military's Coronavirus jab requirement.
More Support For Ukraine
The USD 1.7T spending law allocates nearly 45 bn dollars to assist Ukrainian people and forces so that they can effectively defend themselves against Russian violent attacks. Nearly nine billion dollars of the money would be utilized in providing military education and training to Zelenskyy troops, to pay for arms and equipment, logistic support, and salaries.
Around twelve billion will go for refiling American stockpiles through US Presidential Drawdown Authority. Moreover, thirty-three billion dollars will be provided to the government in Kyiv for financial assistance. And other spending would be used for humanitarian and infrastructure restoration needs
Read Also: US Requires Travelers from China to Produce COVID-Negative Test