Joe Biden, the United States President, was on a historic visit to Vietnam, where he signed a significant deal, and he also denied the speculations about America attempting to counter China's growing international influence. Biden went to Hanoi 50 years after American soldiers left Vietnam after a severe fight, as both countries were at war then. He signed a massive agreement to bring the countries closer. It is a significant achievement as both former enemies are on a roadmap to come closer through new economic ties. Both nations are already in relation for recent years, but they want to touch new limits and make the highest level of mutual agreements. America has been pushing for closer ties with Vietnam for two years, and it has become a massive achievement for Washington, which sees the new ties as a strategy to counter Chinese influence in Asia.
Hanoi is one of the most prominent allies of China, and now Vietnam achieved the highest level of diplomatic goal in coming closer to the US. President Biden expressed in Hanoi that they have not seen the matter as a strategy to isolate China, but they seek stability following international laws. In response to a question, Mr. Biden said people overthink about the Cold War term; it was about strengthening relations and being stable economically. President Biden added he wants to see China successful in the economic field but by the law.
Big Brands Are Interested In Vietnam
Experts claim there are also some concerns in Beijing regarding ties between Washington and Hanoi, and China has been sensing America's "Cold War mentality." As Vietnam is closer to Peoples Republic of China and its big economic partner, this American move has triggered some reservations for the Chinese government. Vietnam has the edge over many other countries in having a young and educated workforce in a large number, which becomes an attraction for big entrepreneurs and company owners, especially the personnel who want to shift their business infrastructure out of China.
A big development has happened in recent years, and big brands like Dell, Microsoft, Apple, and Google have shifted parts of their supply chain to Vietnam. America also considers Vietnam a fertile land for weapons and military equipment. Washington seems interested in making Vietnam an essential point for the international semiconductor supply chain and developing it into an electronics sector. This process is in action as America wants to keep China out of the advanced technology race. At this time, when Vietnam is making ties with the US, it doesn't seem to be in the mood to choose one side between Beijing and Washington as both are its prominent allies. It is also anticipated that if the Chinese economy becomes weaker in the future, the United States will become essential for Vietnam.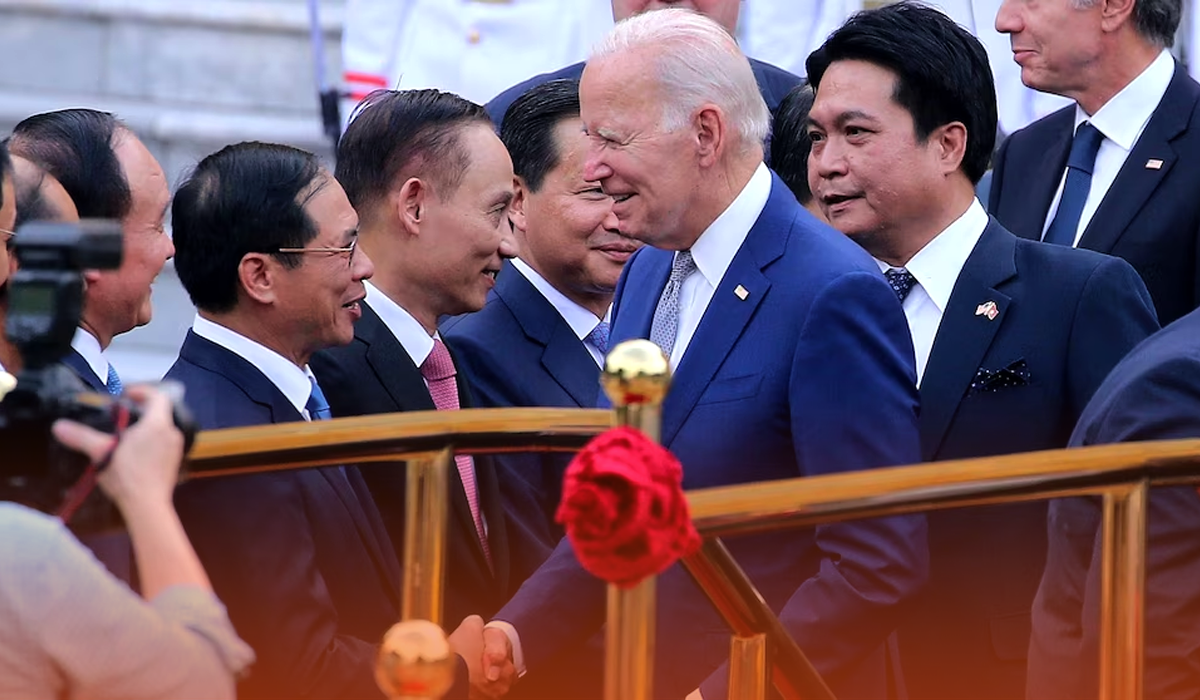 Biden Sent Several High Level Officials To Hanoi
It took around two years for the United States to reach stronger ties with Hanoi as President Biden sent several high-level American officials, including the secretary of State, Vice President, Secretary of Defense, and others. US Aircraft carriers also made stops in Vietnamese ports. Before Biden's visit, White House National Security Advisor Jake Sullivan expressed that Hanoi would also play a part in the United States' growing influence and relations in the Indo-Pacific region.
Both countries have a painful legacy of war in which they fought harder, and it is much more exciting to see those former foes bonding in stronger ties with each other. Vietnam is already a significant trading partner to the United States, and American government data shows the following trading data with Vietnam:
In 2022, the US imported goods worth $127 billion from Vietnam
$101 billion of imports in 2021
$76 billion of imports in 2020
Last year, Vietnam became America's eighth biggest trading partner, which was at number ten two years ago. Treasurer Secretary Jenet also emphasized the importance of close ties between the two nations. She described that they should go for more suppliers instead of relying on countries with challenging political tension.